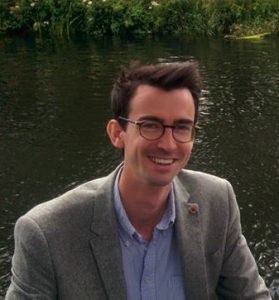 Rory Hill est chercheur en géographie culturelle. Il achève en 2016 ses études doctorales à l'Université d'Oxford, où il a soutenu sa thèse sur la notion de terroir en France. Ce travail se caractérise par une approche culturelle et historique dans laquelle il essaie de mieux cerner comment le terroir est compris, valorisé et mis en cause dans trois filières agricoles françaises. Et comment la logique du terroir peut être utilisée dans la promotion du local food et slow food en Grande-Bretagne et, plus largement, en Europe.
Membre de la Royal Geographical Society et du Wine Guild du Royaume-Uni, Rory a fait de nombreuses communications lors des colloques durant son projet de recherche. Il a organisé une colloque et dégustation au sujet de nouvelles frontières alimentaires à Oxford en mai 2014. Il est l'un des fondateurs de la revue scientifique Politics of Place, dont il est toujours l'éditeur.
Thèse
« 'Local, loyal and constant' ? On the dynamism of terroir in sustainable agriculture » Thèse doctorale (sous la direction du Prof. Sarah Whatmore), Université d'Oxford, 2016
Publications
« Pour un terroir « d'écologie » : les vins en biodynamie » dans l'ouvrage collectif des Presses Universitaires du Mirail (sous la direction de Christine Margétic) Les campagnes : espaces d'innovations dans un monde urbain. 2016 (en cours).
« Animating terroir in the French Alps » dans l'ouvrage collectif de Routledge (sous la direction de James Riding) Reanimating Regions: Ethnographic Explorations of New Regional Geographies. 2016 (en cours).
Traduction
« French emigration to Jersey 1850-1950 » par Michel Monteil, traduit du français par Glyn Burgess et Rory Hill, Société Jersiaise/Ex-Libris Books, 2015.
.