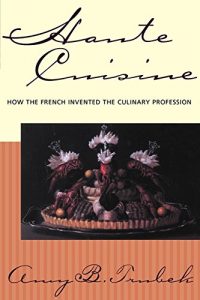 "Paris is the culinary centre of the world. All the great missionaries of good cookery have gone forth from it, and its cuisine was, is, and ever will be the supreme expression of one of the greatest arts of the world," observed the English author ofThe Gourmet Guide to Europe in 1903. Even today, a sophisticated meal, expertly prepared and elegantly served, must almost by definition be French.
For a century and a half, fine dining the world over has meant French dishes and, above all, French chefs. Despite the growing popularity in the past decade of regional American and international cuisines, French terms like julienne, saute, and chef de cuisine appear on restaurant menus from New Orleans to London to Tokyo, and culinary schools still consider the French methods essential for each new generation of chefs. Amy Trubek, trained as a professional chef at the Cordon Bleu, explores the fascinating story of how the traditions of France came to dominate the culinary world.
One of the first reference works for chefs, Ouverture de Cuisine, written by Lancelot de Casteau and published in 1604, set out rules for the preparation and presentation of food for the nobility. Beginning with this guide and the cookbooks that followed, French chefs of the seventeenth and eighteenth centuries codified the cuisine of the French aristocracy. After the French Revolution, the chefs of France found it necessary to move from the homes of the nobility to the public sphere, where they were able to build on this foundation of an aesthetic of cooking to make cuisine not only a respected profession but also to make it a French profession. French cooks transformed themselves from household servants to masters of the art of fine dining, making the cuisine of the French aristocracy the international haute cuisine.
Eager to prove their "good taste," the new elites of the Industrial Age and the bourgeoisie competed to hire French chefs in their homes, and to entertain at restaurants where French chefs presided over the kitchen. Haute Cuisine profiles the great chefs of the nineteenth century, including Antonin Careme and Auguste Escoffier, and their role in creating a professional class of chefs trained in French principles and techniques, as well as their contemporary heirs, notably Pierre Franey and Julia Child.
The French influence on the world of cuisine and culture is a story of food as status symbol. "Tell me what you eat," the great gastronome Brillat-Savarin wrote, "and I will tell you who you are." Haute Cuisine shows us how our tastes, desires, and history come together at a common table of appreciation for the French empire of food. Bon appetit!
Order the book
Food 2.0 LAB in association with Amazon
Books by the same author –