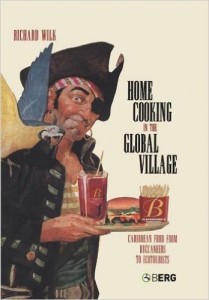 Belize, a tiny corner of the Caribbean wedged into Central America, has been a fast food nation since buccaneers and pirates first stole ashore. As early as the 1600s it was already caught in the great paradox of globalization: how can you stay local and relish your own home cooking, while tasting the delights of the global marketplace? Menus, recipes and bad colonial poetry combine with Wilk's sharp anthropological insight to give an important new perspective on the perils and problems of globalization.
Table of Contents :
Chapter 1: THE GLOBAL SUPERMARKET
Fast Food Planet?
Thinking More Clearly about Globalization
The Caribbean at the Vanguard of Globalization
A Radical Proposal
Why Start in Belize?
Chapter 2: GLOBALIZATION THROUGH FOOD
Food as a way to Understand Globalization
My First Taste of Belize
A Long Global History
RECIPE: Creole Buns
Chapter 3: PIRATES AND BAYMEN
Buccaneers at the River Balise
The Buccaneer Diet
Were the Buccaneers Farmers?
A Taste for Fish and Fat
Drinking Men
RECIPE: Salamagundy
Chapter 4: SLAVES AND MASTERS AT TABLE
Trade and Empire
Conflict, Dislocation and Slavery
Slave Society
Slave Food
Globalization at the Margins
Out of Diversity, A Common Culture
RECIPE: Pork and Doughboys
Chapter 5: THE TASTE OF COLONIALISM
Migrants and their Ethnic Stews
Racism on the Menu
Spicing up the Colonial Pot
Rum, Dancing, and Sexual Pleasure
Luxuries and Rewards
Global Food in Barrels and Bottles
RECIPE: Saltfish and Plantains
Chapter 6: GLOBAL INGREDIENTS AND LOCAL PRODUCTS
Making and Mixing Local Food
Creoles in the Kitchen
Recipes for a New Cuisine
Class Boundaries and the Meaning of Food
Ethnic Lumps in a Creole Stew
RECIPE: Chicken Tacarry
Chapter 7: FOOD POLITICS AND THE MAKING OF A NATION
Problems that Wont Go Away
Why Cant Belize Feed Itself?
The Real Problem is Global, Not Local
National Thinking in a Global World
What is a Poor Country to Do?
Food on the Political Battlefield
RECIPE: Winter Fruit Salad
Chapter 8: MIGRANTS, TOURISTS AND NEW BELIZEAN CUISINE
A New Kind of Globalization
Post-Colonial Cookbooks
The Legacy of Colonialism: Cultural Ambivalence
The Royal Rat: Building Pride in Local Food
Migration and the Return of the Belizean-Americans
The Peace Corps and More
Authentic and Natural, with a Touch of Thai: Cruise Ships and
Ecotourists
Nouvelle Belizean Cuisine and Roots Food
RECIPE: Chilled Canteloupe Soup, Cayo Cuban Sandwiches
Chapter 9: FAST FOOD OR HOME COOKING
A World of Fast Food Nations?
Variety on the Menu in the Global Village
Biodiversity And Culidiversity
Home Cooking
Recipe: Rice and Beans – See more at: http://www.bloomsbury.com/us/home-cooking-in-the-global-village-9781845203603/#sthash.Wds6Pibg.dpuf
Order the book
Food 2.0 LAB in association with Amazon
Books by the same author –