"Rethinking Food and Food Safety" explores the intersection of data science, genomics, and social sciences in food. With the world population set to reach 8 billion by 2024, it is imperative that we invent new ways to feed the world in a sustainable, safe and healthy manner.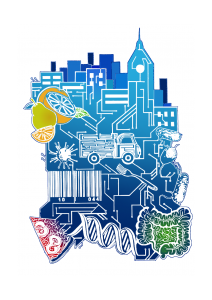 The Food 2.0 LAB Paris, through a series of upcoming academic conferences and workshops, invites the world's leading food and food safety experts representing academia, NGOs, regulatory bodies and food sector organizations, to redefine the scope of food safety and set the food safety agenda for the coming years. In the last decade, the meaning of food and the concept of food safety have profoundly evolved, due in large part to ground breaking advances in sciences, technologies and society.
Our first academic Conference will be held in Paris on October 4-5, 2018. Scholars, food experts, entrepreneurs, policy makers, farmers and chefs from Europe and the world will be present. With a common goal to meet the global food safety challenge, the event will create a forum for networking, debate, discussion and learning – showcasing the technologies and championing the innovations which have the potential to shape the future of food.
In addition, the Food 2.0 LAB will conduct in 2018 a Foresight Review on the Future of Food and Food Safety: addressing food safety across the short and longer term, looking at challenges and novel solutions for society. The Review takes a global perspective and will make recommendations on research, innovation, education, policy and practices needed to plan for a healthy and safe food future for all.
This research program is being led by Richard C. Delerins and Pierre Raffard within the Food 2.0 LAB.